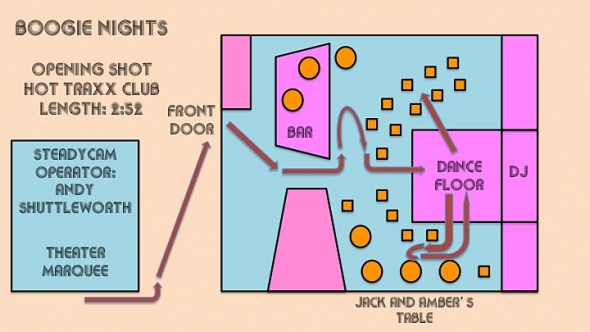 When we last left this year-by-year account of my past decade of video essay production, it was December 2011, I had just been fired for not making enough viral videos, and was immediately re-hired after making the most viral video essay of my career.
I was now relieved of my responsibilities managing editorial content for Fandor, and assigned to focus solely on producing roughly four video essays for each month – the arrangement I would maintain until I left the company at the beginning of this year. As a result, my production skyrocketed from 10 video essays in 2011 to 46 in 2012.
Despite this dramatic increase in output, I was now working on a freelance basis at a greatly reduced salary than my previous full-time status, so I was effectively doing more work for less pay. I had to seek other outlets to supplement my income. Fortunately around the time of my status change at the end of 2011, Matt Zoller Seitz recruited me to help finish editing his epic video essay series on Steven Spielberg for his newly launched blog Press Play on Indiewire. He then hired me as Editor in Chief of the site to produce one new video each week. This meant that between Fandor and Press Play, I was producing eight videos a month. This was the most intensive period of video essay production I've experienced, and will probably ever experience. I literally was sitting in front of my computer for 12-15 hours a day watching, editing, publishing and promoting videos.
Video essay productions between two sites were run very differently. At Fandor, I was mostly left to my own devices, left to explore my whims and curiosities more openly. If I had to pick one video as the best of those 46, it would probably be this one for best exemplifying that whimsical, associational approach I was trying out at Fandor. However, it was this video from 2012 (somewhat thematically related to the other) that has gained the most views of any video I have made – the original (now deleted) upload on Fandor topped 1 million views on Vimeo and YouTube, more than "The Spielberg Face." (Any guesses why?)
Over at Press Play, I was working more closely with a team involving Matt, main site sponsor Ken Cancelosi, and managing editor Max Winter. The four of us would have frequent and spirited discussions over the videos being produced. It was the most engaged and conversational group environment I'd ever have producing video essays and I was glad for that.
The content tended to gravitate towards themes and series. First there was the "Vertigoed" Challenge, which helped draw a lot of community participation around the site. We followed that up with the first ever "Who Should Win the Academy Awards" video essay series, which I would continue for the next few years on my own. In March we produced a multi-part series of video essays for each season of the television series Mad Men, which granted me a chance to indulge in some experimental editing techniques to explore the psyche of Don Draper.
The last series I produced for Press Play was my own initiative, a series of video essays polling esteemed critics on their favorite films, in conjunction with the 2012 Sight & Sound Film Poll of the greatest films ever made (this was the edition of the poll in which Vertigo infamously toppled Citizen Kane from its reign at the top over the past decades that this poll was conducted). In a sense it was a return to my collaborations with critics back in 2008. I was especially pleased to collaborate with Berlin-based critics Ekkehard Knörer and Michael Baute on the German post-war film Under the Bridges, a truly sublime film that wound up on my own Sight & Sound ballot that year, partly through the experience of engaging with the film through making this video.
These videos on the Sight & Sound poll had the benefit of catching the attention of Sight & Sound, prompting them to enlist me in the production of video essay content. I made two videos for them in 2012: a report from the Beijing Independent Film Festival as it was abruptly shut down by the Chinese authorities; and one on the tracking shots in the films of Paul Thomas Anderson. For the latter video, I used mapping techniques to show how Anderson's approach to long take cinematography changed over the first part of his career. The success of this video, helped greatly by this visual mapping technique, all but ensured a place for video essays on Sight & Sound in the years to come, further cementing their relevance among established institutions of film criticism and culture.
I also came upon a special opportunity to produce my first video essay as a DVD bonus feature. Ryan Krivoshey, who was then running acquisitions and distribution for The Cinema Guild label, enlisted me to make a video for the DVD of Hong Sang-soo's The Day He Arrives. At first I was intimidated to take on such a puzzling film with its elusive narrative, but the video essay proved to be an ideal means to visualize how the film was structured around repetitions. This and the Anderson video signaled a personal breakthrough for me, that I was really starting to see films beyond what was on screen and accessing another dimension to visualize how these films were constructed.
Thinking on what I might attribute to this newly acquired vision, I point to the following video that I made prior to the previous two. In May 2012 that I presented a program on the past and present of videographic media with Volker Pantenburg at the Oberhausen Film Festival. Around that time Volker shared several of Harun Farocki's films with me, including his 1995 short film Schnitstelle / Interface, in which Farocki examines his own editing process. Less than a month later I made a video essay comparing Farocki's editing methodology with my own, while absorbing a key line in his video, his wish to see "images commenting on images." It was a wish that I held for my own work at the time, and my efforts to create new visual schemes in the Anderson and Hong videos were an attempt to advance closer to that goal.
I've previously written about this formative stage of my development at Catherine Grant's website The Audiovisual Essay, cross-published at [in]Transition, the seminal academic site for videographic scholarship. Here I will just quote one key passage as far as the impact studying Farocki's work had on me at the time:
Farocki made me realize that it wasn't enough for a video essay to analyze the films as self-contained works of art. It was important, even imperative, for video essays to somehow arrive at new forms of audiovisual expression through a critical engagement with established modes of image making. Farocki made me aware that video essays, despite their seemingly secondary or derivative stature, bore a potential to emerge as a transformative form of image-making, bearing a special kind of autonomy engendered by a singular combination of the creative and the critical that is unique to the form.
2012 proved to be a galvanizing year for me, if only by virtue of sheer output. I produced 80 video essays:
46 for Fandor
28 for Indiewire Press Play
2 for Sight & Sound
1 DVD extra for Cinema Guild
1 for Frames Cinema Journal
2 on my own.
Nonetheless, for all of this production, I was actually losing money and digging into my savings. I decided to scale back and rethink my long term goals.
I quit Indewire Press Play by the middle of 2012 and held on to the Fandor weekly video essay gig. I also began to apply to graduate MFA programs, thinking that the best way forward was to earn an advanced degree to qualify me for a teaching career. I was starting to hear of teachers using my video essays in their film studies classes, and also noticing more scholars trying their hand at making video essays, so it seemed like a potentially more steady and viable trajectory for my work. The experience would prove to be far more transformative.